Darning- In how many ways can a hole be filled?

We all have them: holes and stains on our clothes. It can be an annoying stain where it is most visible, or a stitch that has dropped on a piece of clothing which is otherwise perfectly fine.

The best thing to do with a hole or a tear is of course to fix it before the damage is to large, but we are probably not alone letting a small hole grow or even putting the cloths on the 'fix-later' pile.

To take care of clothes is as old as clothes themselves. In this pampflet we share ideas on how we have used classical darning techniques to mend different clothes.

It is hard to categorise mending by saying: use this technique on this piece of clothing. Clothes have widely diverse qualities and are worn in dfferent ways. Experiment and try different ways of mending and use materials you alreday have at home.

We have sometimes darned the way one 'should' but just as often experimented with the darning techniques to achieve a certain effect or look and turned the act of mending into an inspiring craft project.
Also, we have combined the darning techniques with other classic embroidery techniques such as white work, needle- and lacework. The small mending projects have grown into large craft projects.

We hope our work makes you curious and ispires you to mend your torn clothes so that you will continue wearing them rather than throwing them away.

"The pile of clothes that need mending gets a new value, it's no longer a bad concious but an exciting crafts project."

P.S. We produce more clothes than we need, we buy more clothes than we need and we throw away more clothes than we have to. It doesn't have to be that way.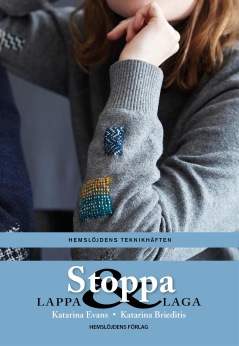 Författare
Katarina Brieditis & Katarina Evans
ISBN 978-91-87471-17-9
Utgivningsår 2019
Storlek 170 x 245 mm
Sidantal 48 sidor
Format Häftad
Fotograf Karin Björkquist
Formgivare Cecilia Ljungström
Illustratör Cecilia Ljungström
Other booklets in the series: