Altar frontlet för Uppsala Cathedral 2015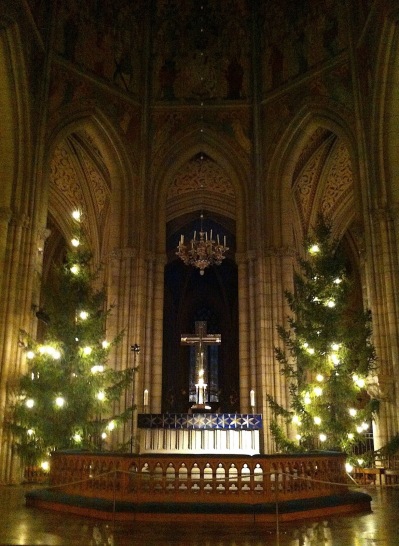 Altar frontlet för Uppsala Cathedral 2015.

In the motif we wanted to integrate shapes from the surrounding architecture; the form of the arches, the reliefs on the pillars and the blue starry sky seen behind in the Maria chapel (where Gustav Vasa is burried).

The main form is the star of Bethlehem, also carved into a biblical scene on one of the pillars in the church- it was a special request that the star was mart of the design. The color should be blue accorinng to the lithurgical colours of the season, and the pice should also work with a blue chasuble, stoles and other textiles composed in 2011 by Erika Pekkari. Katarina Evans was involved with producing these textiles also where she embroidered the designs on the specifically died swollen fabric.
The piece we made is made out of wasted wollen sweaters, which we think add furthter values to the textile - apart from the very cocrete challege to give the dull and worthless material brigthness and lustre. To see a material considered worthless transformed into something that should decorate one of the most central places in this magnificent cathedral during the darkest time of year is fantastic!

Something broken and thrown away to be burnt, is now blessed and will in the future be carefully looked after, just to be placed on the main alter during two weeks before Christmas- for decades to come? Here and now this is an aspect of sustainability that we cannot ignore.