Pågående just nu: Slipsfabriken, en industrifantasi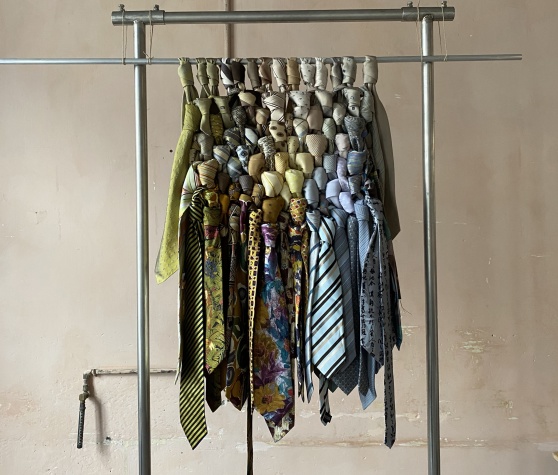 Slipsfabriken - en industrifantasi
Utgångspunkt för utställningen har varit en stor mängd kasserade företagsslipsar av siden som vi fått i donation och ett lika stort antal inköpta på second hand. Slipsar som under slutet av 1900-talet togs fram för att bäras av manliga tjänstemän i representationssyfte. Materialet lyxigt, men som i våra tidigare experiment med textil överproduktion är det fråga om massproducerad, oönskad och överbliven textil.

Vår vision har varit att gestalta en fantasi kring hur industrilokalens gamla maskiner kan har använts.
En industrifantasi. Massproduktion, monotona upprepningar. Många av samma blir överflöd, överblivet, över. Evighetsmaskiner som producerar och producerar. Drivremmar av slipsar, högar av slipsar, slipsar som droppar, sprutar och matas ut ur maskinerna. Görs om och blandas ihop till mos eller aska? Återbrukas? Kasserade slipsar får nytt liv genom textila experiment i Slipsfabriken.

Part of the exhibition Konsten att ta tillvara, Sörmlands museum 2019-2020

Clouds at Åhléns City, Mästersamuelsgatan. Stockholm Design Week 7-25 Feb 2018

Archipelago through Galerie Maria Wettergren at PAD Art Genève. 1-4 Feb 2018

Off Pist No3 was part of Threads and Fibers, Contemporary Scandinavian Design at Galerie Maria Wettergren, 18 Rue Guénégaud, Paris. 14 Dec 2017 - 10 Mar 2018

Rosengång and Kasuri was part of our exhibition 'Handscape' at Atelier Muji, Yurakucho 2F, Tokyo 1 Sep - 29 Okt 2017

Off Pist No3 was part of «Nouvelles vies - Éco-conception, upcycling et recyclage dans le Design »
VIA, Paris. 21 Sep- 25 Oct 2017

Archipelago at Design Miami/Basel through Galerie Maria Wettergren June 2017

Tailor at PAD London through Galerie Maria Wettergren 2-8 Oct 2017

Islands m fl at HKDI, Hong Kong Mars-April 2017

Off Pist No3 at Design Miami/ Basel through Galerie Maria Wettergren 14 - 19 June 2016

Re Rag Rug at Ventura Lambrate, Milano. 12 - 17 April 2016

Off Pist No3 at PAD Paris through Galerie Maria Wettergren 30 Mar - 3 April 2016

Re Rag Rug Re-Produced at Galleri GKF, Visby, Gotland. Sep 2016

Squeeze and Re Orient No2 nominated and exhibited at Best Carpet Award, Domotex in Hannover, Germany. January 2016 (Re Orient No2 won first price as Best Studio Artist Carpet 2016)

Re Rag Rug at Institut Suédois, 11 Rue Payenne Paris, France. 6 Nov 2015 - 10 April 2016

Re Rag Rug Re-Produced at Handarbetets Vänners Galleri, Djurgården, Stockholm
14 Aug - 7 Sep 2015

Re Rag Rug at Textilmuseet/Textile Fashion Centre Borås. 9 May - 30 Aug 2015

Re Rag Rug at Hong Kong Design Institute. 17 Oct 2014 - 24 Mar 2015

Re Rag Rug Re-Produced at 100% Design, Earls Court, London 17 - 20 Sep 2014

Kasuri was part of the Design Winners of the year 2014 chosen by ELLE Decor Magazine. A travelling joint exhibition showing at the Central train stations in Stockholm,
Malmö and Göteborg in February 2014.

Grid was part of "The Future is Handmade", a joint traveling exhibition at
Kalmar Konstmuseum 12 Feb - 21 April 2014
Form/Design Center in Malmö 5 June - 24 Aug 2014
Falkenbergs museum 20 Sep - 30 Nov 2014

Re Rag Rug at Murberget in Härnösand. 30 Aug - 28 Sep 2014

Re Rag Rug at Landskrona Museum. 6 Jun - 28 Aug 2014

Kasuri was part of a joint exhibition at Textilarkivet in Sollefteå, Sweden. 4 May - 15 Sep 2013

Milky Way was part of 'SHIBORI - TO DYE FOR' a joint exhibition at Konstfack, Stockholm
14 - 24 March 2013
and at Falkenbergs museum 14 Sep - 30 Oct 2013

Re Rag Rug at Färgfabriken, Stockholm. 17 - 27 Oct 2013

Tailor was part of "the Business Boudoir" at Habitare in Helsinki, Finland 12-15 Sep 2012
artists in recidence KA Almgren Sidenväveri och museum , Stockholm
20.09.14 - 20.10.31

Under två veckor har vi byggt upp en Slipsfabrik i Sidenväveriets beredningsrum, nu invigd och öppnad.

Men det är egentligen först nu allt börjar eftersom vi kommer att jobba här på Slipsfabriken varje vardag i oktober mellan kl 12-16 på Så kom och besök utställningen och oss i vår industrifantasi!

Ta gärna med er någon slips ni inte använder och byt mot en ny, shoppa snygga knutar eller låt er bara inspireras av vår utställning.

Det går också att följa utställningen på vår blog reragrug.blogspot.com

Väldigt välkomna!